Read that quote one more time…
AND 
Then allow the meaning to really sink in DEEP.
Now ask yourself this question:

Is there something in your past causing you pain and preventing you from fully experiencing joy in the present?
If you're single, maybe you're still hung up on an old flame.
You have some regrets and wish you'd handled things differently.
If you're in a relationship, perhaps there is an upset you can't seem to move on from. It could be anything from a fight over dinner to a betrayal of trust.
Or..
It might be something big like it was for me, the suicide of my child.
Whatever scenario you happen to be in, it's crippling you and hindering your ability to either connect with yourself and your life.
In the first few years after Victor's suicide, people would often tell me to just "move on,"
BUT…I just couldn't simply move on. It hurt to much for me to just "MOVE ON"
So what do you do?
Well, I have a radical answer for you.
My answer comes directly from experience!
This answer has not only helped me overcome two bad marriages where I experienced abuse of myself and my children, but also the guilt and regret that I felt when Victor died.
So if you are serious about finally allowing the past to stop holding you hostage,
READ ON and discover how I have managed to find joy and happiness in EVERY area of my life.
Lesson #1:
Give Up Getting Over The Past
Here's the truth – and if you really take it in, it will come as a relief:
You NEVER get over the past.
Think of getting over something…
You can get over a challenge,
or over a barrier of some sort,
 the past has already happened.
It's outside of your control.
You can't go back and fix what happened.
There's absolutely no use stewing over it.
Life is filled with a million moments – some will look back on with fondness, and some wish it had never happened.
This is normal.
What you CAN control is… How you will ALLOW the past to affect you today.
And there's only one way that I have found that really works:
You Have To Be Willing To Open Up To Acceptance And Love
You get over the past when you open your heart to it!
The moment you accept the PAST as IT IS,

Will be the EXACT moment you start to release it's hold on your life.

And before you know it you will find yourself saying things like:

"Okay, that happened. And this is happening now."

You will find yourself also making DIFFERENT choices than you have been making.

Your choices will no longer be made from a need to deny or hide from your past, but rather from a place of finding JOY in TODAY!
There are some verbs that are especially useful in doing this:
Including and welcoming the past.
Until you've included the past and embraced it, you can't put your focus on what you want.
The moment you let go of the past is the moment you love it as it is.
Because it's already happened and there's nothing you can do about it in the present.
So give your past a drop of love and love yourself for however you feel about it.
Feel remorseful about your past actions?

Love yourself for it.

Feel pathetic that you wasted so much time on a situation you can't do anything about?

Love yourself for that, too.

When you do this, you become present, so you can create the relationships you want now – both with yourself and with others.
The relationship you have with yourself is your primary relationship.
You cannot fully give or receive love if you do not love yourself first.
Lesson #2:
Setting New, Positive Intentions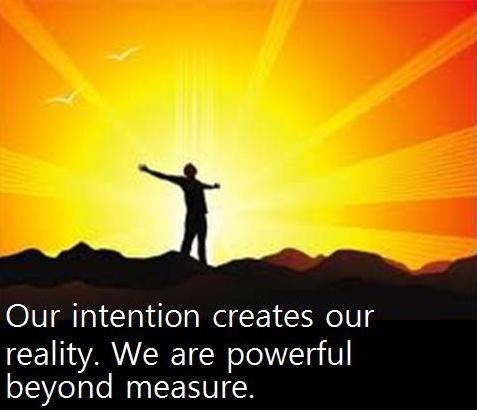 When you accept the past as it is, then the next important step is:
"Okay, NOW what do I want?"
When you put attention and actions into what you want to create now – despite what your past is – you can literally create the relationship with the future that you really want.
Suddenly, the past is no longer a burden for you, but a springboard.
What has held you down for so long can now be channeled into something completely new.
Because you now know that your past can be used as a valuable tool where you have learned the lessons it had to teach, so you make choices from a much wiser and more logical place.
You will no longer continue making those bad choices but will now find yourself making much wiser and more empowering decisions.
Your future is created one new choice at a time!
Five years ago, I was a single mother struggling to put food on the table and keep a roof over our heads. Today I am happily married in a very financially secure life where I enjoy abundance in every single area of my life.

My health is good.

My kids are wonderful.

My relationship is enviable.

And my home is beautiful.
If I hadn't discovered and  followed these principles, I would still be stuck lamenting over the problems I had experienced in my past – such as criticism and blame.
I knew that dwelling on what happened would guarantee that I would stay there.
Instead, I asked myself a powerful question that has driven my choices since that day:

"How can I create a relationship with myself that runs entirely on positive energy?"

The answer:

It's not any one thing, but rather various practices and habits that allow us to create the relationship with our self we want – one day at a time.