The other day, a very special girl in my life posted on Facebook and said her New Years Resolution this year was to learn to love and trust God more.

Her post reminded me of one of my favorite sayings which is:

"God has more planned for you than you could ever imagine for yourself."
Her post has really made me think a lot about the role God has played in my own personal life.
While I didn't understand it at the time, twenty five years later I certainly do.
I'm here to tell you that this statement holds true, I've experienced it firsthand.
My life has been clear full of Bad decisions that have led to painful consequences.
All those years I spent trying to "FIX" my life all by myself, all I was ever able to accomplish was making things worse.
But the day that I learned to trust God, and surrender my life to Him, was the turning point for me in life.
Through the experiences in my life, I have become very passionate about helping people understand their true power and potential and how to use it for good.
I want to be an example of how a life full of pain and abuse can become a life full of happiness and healthy relationships.
But before any of that is possible, you need to heal the MOST IMPORTANT relationship in your life… Your relationship with God.
Once you can accomplish that, then you will begin to trust life and have faith that your life is held in the most capable of hands, and that you need not fear the future.
So my words today are simple but life-changing:
Create a prayer journal and fill it with everything you have ever desired.
Then have faith and expect great things to happen in your life.
One of my favorite stories about the power of writing down your desires is a prayer that I wrote thanking God for my husband.

In this prayer, I made sure to thank Him for each and every quality that I loved about my husband.

The interesting part about this story was that I wrote that prayer eight years before I ever met Jeff, and yet he is EXACTLY like the man I was thanking God for in that letter.

When I showed that journal page to Jeff, he looked at me in amazement and asked, "How did you do that?"
So today, I want to share with you the  habits that I have in my life for making my dreams come true.
Habit #1. Keep a Daily Prayer Journal:
I've kept a prayer journal for the past nine years.
I love to go back and read the things I wrote several years ago because these journals are actual proof of what I'm capable of and also as inspiration for what's possible.
From buying my dream home,
to marring my ideal mate,
to writing a book,
I've hit 90%+ of the goals in my journals.
If there is one thing I've learned, it's that you get exactly what you put your focus on – so focus on something great!
Habit # 2. Expectations:
I'm the girl no one expected anything of, but who expected everything of herself.
I grew up in a often time poor family.
As an adult I have been homeless twice.
I spent over 20 yrs. battling terrifying circumstances.
In order to handle my life, I turned within, focused on my own power and decided to change the course of my life.
I'm living proof that happiness and success is available to everyone who wants it.
Habit # 3. Focus Daily on My Footprint that I will leave humanity when I am gone:
Making a difference in people's lives is what drives me.
While money and recognition are nice, nothing compares with truly influencing the course of someone's life.
When you put the needs of others above your own, I have found that it keeps me focused. By being aware of the people around me, I remember that I am not ever "The Worst Off", or the "Best."
Because when you look around you you will find others who have it worse than you, which helps you to be
AND:
You will find others who are doing much better than you, which helps you to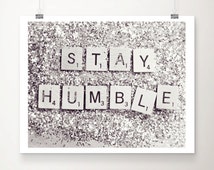 And by spending time each day focusing on the FOOTPRINT I want to leave the world, I find that it is so much easier for me to follow the call to my own personal destiny!
But most of all I want you to remember that:
Whatever you had planned for your life, open your mind to the possibility that there is something far greater than anything you could ever have imagined for yourself.
Get down on your knees and pray to God and express your desires to Him, then write those desires down in a journal.
AND THEN…
Get ready, it's going to be amazing, I promise!